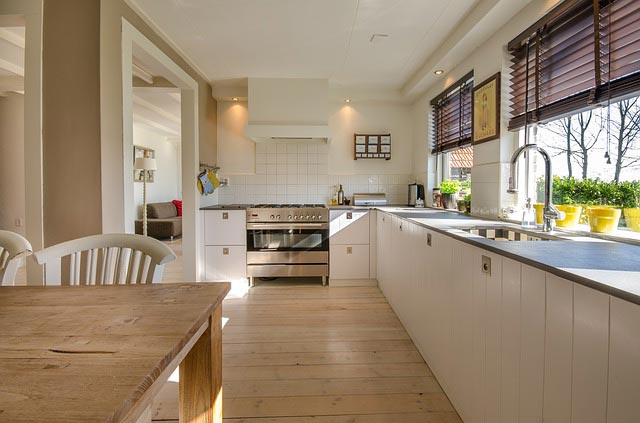 A typical American household spends $2,060 a year on electricity, according to the U.S. Department of Energy. Unfortunately, if a home isn't efficient, a lot of that energy goes to waste—possibly as much as three-quarters of it, according to Renewable Nation, a Washington, D.C.-based non-profit focusing on affordable and clean energy. Here are some money and energy saving suggestions from Renewable Nation's app for homeowners.
1. Start by getting a home energy audit. Whether through the Building Performance Institute or the Residential Energy Services Network, certified professionals can conduct a home or building assessment that will help shed light on where energy is being lost and which systems are operating below par. The findings can be used to identify cost-effective improvements to make the property more comfortable and efficient.
2. Seal air leaks. Homebuyers are willing to pay a $7,095 more for a home that will reduce energy costs by $1,000 a year, according to the National Association of Home Builders. Sealing leaky windows, doors, and electrical outlets with caulk, expandable sealant, and weather stripping will help. Hiring a professional to insulate and seal ductwork in forced-air heating and cooling systems can also help lower energy bills by as much as $400 a year, Renewable Nation says.
3. Consider water usage and the water heater. Heating water is typically the second-largest energy use in a home, and can alone cost $600 or more a year, according to Renewable Nation. A homeowner can cut those costs in half by switching to a hybrid water heater that combines a standard water heater with a heat pump. If that's not an ideal option, simply washing clothes in cold water can save $63 a year in energy costs.
4. Get a smart thermostat. Heating the overall space of a home or property is the largest energy expense, accounting for about 45 percent of residential energy bills, according to the U.S. Department of Energy. An owner can save 10 percent each year on heating bills by turning down the thermostat 7 to 10 degrees (Fahrenheit) for eight hours a day. A programmable thermostat can help accomplish that.
5. Avoid the "phantom" menace of energy drains. Electricity used by electronics when they are turned off or in standby mode are a major source of energy waste. Smart power strips can help eliminate the problem of phantom loads by shutting off the power to electronics when they are not in use.
6. Upgrade the fridge. If a refrigerator or freezer is more than 15 years old, it may be so inefficient that a new one would pay for itself in energy savings in just a few years. The American Council for an Energy-Efficient Economy says modern refrigerators and freezers consume 20 to 25 percent less energy than older models.
7. Flip the switch on smart lights. Replacing your home's five most frequently used light fixtures or bulbs with Energy Star models could save $75 per year.
8. Look for the Energy Star label. If you are considering appliance upgrades, remember that using products with the Energy Star label can help save up to 30 percent on related electricity bills.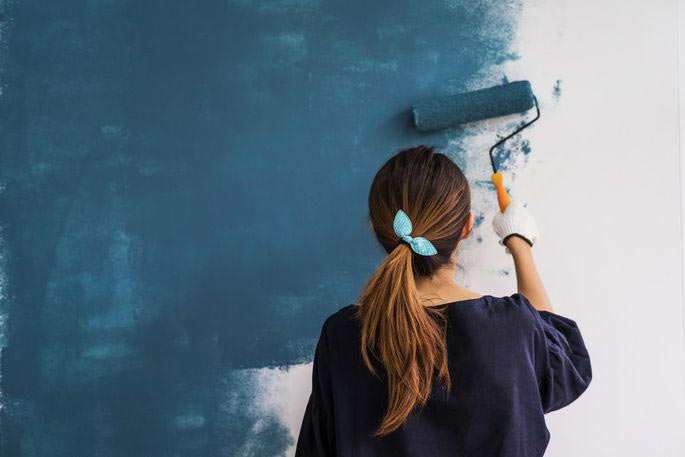 For those of us who live in cold-weather climates, the winter months are synonymous with hibernation mode. Who wants to go outside when you have to shovel 2 feet of snow just to see the sidewalk?
But don't let the next blizzard or polar vortex take the wind out of your home renovation sails. A frigid winter weekend is the perfect time to tackle an indoor project (as long as you can coax yourself away from your blanket and your Netflix queue).
Not sure where to start? Read on to find inspiration for your next weekend project, whether you only have an hour to spare or can dedicate a full weekend to home improvement.
1. Update your kitchen backsplash
Time: Half a day to two days
Tools: Score tool, tile cutter or wet saw, power drill, grout, joint compound, joint knife
Maybe you don't have a backsplash in your kitchen, or maybe you've been putting off replacing your existing one. Either way, updating your backsplash is a project you can easily accomplish in a weekend.
"This is an area of only 30 square feet in most homes," says Yuka Kato, content manager at Fixr, a marketplace for contractors and homeowners. The relatively small scope makes this an ideal project for tile novices.
If you're a renter and you can't install permanent decor, pick up some peel-and-stick tile to add temporary (and totally removable) pizazz to your backsplash.
2. Install a smart thermostat
Time: One to two hours
Tools: Screwdriver
A smart thermostat can help you save money during the winter months, when you're most likely to rack up expensive energy bills. And the best part? You can easily knock out the installation in a couple of hours over a weekend.
Do your homework before you head to the store, so that you know which thermostat will best fit your needs. And make sure to review the instructions ahead of time, to be sure you're comfortable with the installation—nobody wants to get stuck with a dysfunctional thermostat in the dead of winter.
3. Create an accent wall with removable wallpaper
Time: An hour
Tools: Scissors, utility knife
Wallpaper has made a serious comeback, but today's bold hues and prints are a departure from the granny-esque designs of yore. If you're curious about this trend but not quite ready to go all-in, start by wallpapering an accent wall rather than an entire room.
Opt for a peel-and-stick removable wallpaper that you can easily take down once you tire of it. Unlike traditional wallpaper, the removal process is painless (for both you and your walls), which means this weekend project is feasible for renters and homeowners alike.
4. Create extra storage
Time: A few hours to half a day
Tools: Power drill, screwdriver
Entryway storage is crucial—especially in the winter, when puffer jackets, snow boots, and scarves demand extra space. Marty Basher of Modular Closets suggests visiting the local craft store to purchase bookcases or shelving, so you can keep odds and ends organized in the entryway.
A wall-mounted shelf above the table will add space for hats and gloves, and you can install hooks for hanging keys or the dog's leash as well.
"An antique, wooden small table with drawers can easily store small items like note pads, pens, a stapler, and other accessories," Basher adds.
5. Give hardware and fixtures a fresh look
Time: An hour or two
Tools: A screwdriver
The weather may be dreary, but your home fixtures can still be cheery. A simple swap of cabinet hardware in the kitchen, the bathroom vanity, or an old dresser will breathe new life into your home's appearance without breaking the bank.
If you have room in your budget for a more dramatic face-lift, install a new dining room chandelier or updated lighting in the foyer, or take the plunge on a statement fixture for above the kitchen island.
6. Swap out your showerhead
Time: An hour
Tools: Wrench, pliers
Over time, showerheads become grungy and gross. If yours is overdue for an upgrade, spend some time this weekend swapping out your old showerhead for a new, low-flow model. Not only will you take the ick factor out of your shower, but you'll also save on your water bill.
"New showerheads spin the water droplets so that you actually feel like you're getting more volume, not less, while you save," Kato says.
7. Apply a fresh coat of paint
Time: One to two days
Tools: Paint, brushes, drop cloth, painter's tape (optional)
Painting is a perennial favorite project for DIYers, and for good reason: It doesn't cost a lot of money, it doesn't require any special skills, and it can be accomplished in as little as a day, depending on the size of your room.
If you're considering selling your house in the spring, opt for neutral white, gray, or tan. If you're planning to stick around for a while, why not go big and pick up a gallon of your favorite statement color?
"Painting a room is an easy way to change the mood of the space and add some color," Basher says.
So go ahead—buy a can of that moody aubergine for your master bedroom or the turquoise you've been mulling over for the powder room. When you're ready for a new color, you can paint again—a good project for next winter, perhaps.
The post Take It Inside: 7 Weekend Improvement Projects You Can Do in Your Pajamas appeared first on Realtor.com.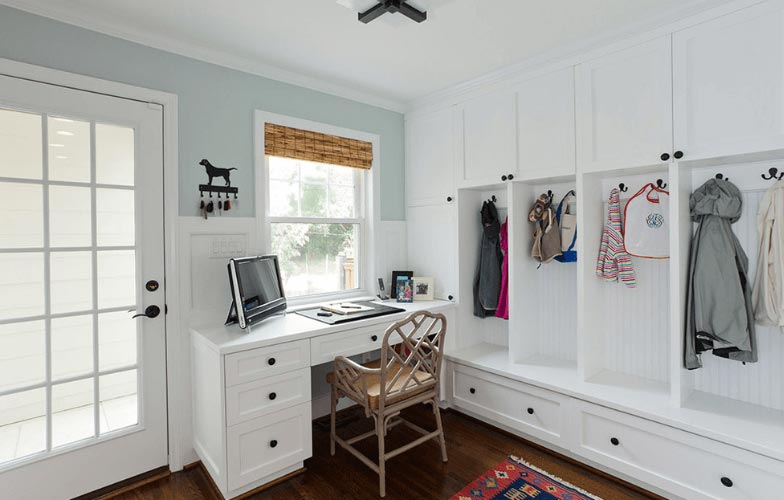 Some of the areas of your Peoria home probably feel like an afterthought. After all, it's not like you'll be showing your linen closets off to your guests. But some overlooked spaces can provide you with quite a bit of functionality. In fact, some of the underutilized spaces in your home can actually become the most useful. By thinking outside of the box, you can turn what seems like wasted space and dusty corners into your favorite places in your home.
The Space Under the Stairs
The space under the stairs is typically ignored or drywalled. But, with the right repurposing, it's valuable square footage. Before you opt to drywall that empty area, consider making it into a kids' play area. It might not be a great space for adults, but it's the perfect area to set up with toy storage, or even to create a playhouse. No kids? The space under the stairs can make an ideal mini-library. Installing simple shelves means your favorite books stay dry, organized and easily accessible.
The Mudroom
The mudroom is one of those spaces that you can't live without – but don't really want to see. It can become a dumping ground for backpacks, coats and shoes, so put it to work: rearrange to create a homework nook. If your kids tend to dump their backpacks there anyway, a small desk with supplied and dedicated study space makes sense. It'll keep the endless papers and pencils out of your main living space and give kids a quiet place to work that's still close to the action.
The Foot of the Bed
There's nothing like your own bed – unless it's the foot of your own bed. This underutilized space is ideal for solving storage problems, especially if your home is short on closet space. A hinged ottoman becomes the perfect place to put on shoes and can help stash away blankets, sheets, clothes and any other quick-access items. Or, add a desk and chair for study space that won't fit on any of your walls. Rethink the space at the foot of your bed as functional square footage and it becomes more than just a place for your socks.
The Guest Room
If you're lucky enough to have a dedicated guest room, you know how great the space can be. But while it's an ideal place for friends and family to crash, it can sometimes go unused. Instead of keeping one room as just a guest space, double up on functionality so you can use it when you're home solo.
Turn your guest room into a sleek office part of the time, or store craft supplies in the guest room closet for when you're feeling creative. There's no reason to leave an entire room unused except for when you have house guests. Be a little selfish and use the room for yourself the rest of the time.
The Linen Closet
Most people would say the linen closet is one of the most underrated spaces in a home. But that doesn't mean you have to fill it with linens and blankets. If you're able to store extra blankets in bins underneath each bed, you'll free up an entire closet for things that make more sense to you. Whether it's outfitting your linen closet as bathroom storage for products and towels or making over your closet as a storage pantry, think beyond sheets when rethinking your linen closet.
The Space Over Doors
The space over each door in your home is a treasure trove for storage and decor. With simple shelving solutions, you'll find a totally new space to store books or to show off souvenirs and decor items that don't have a home elsewhere. Simple, straight shelving is easy to install and remove and can add plenty of character to an otherwise stark hallway.
The Garage
The typical garage is a catch-all space for anything you don't want in your house. But it can also be valuable space for other interests. With the right storage solutions, you can get larger items off the ground, opening up precious square footage. Store bins up in your garage trusses to get rarely used items out of the way. Then, use wall hooks to keep bikes and gear organized. With your new floor space, you could have a great indoor gym, a lounge, a rec area for rowdy kids or even a music studio.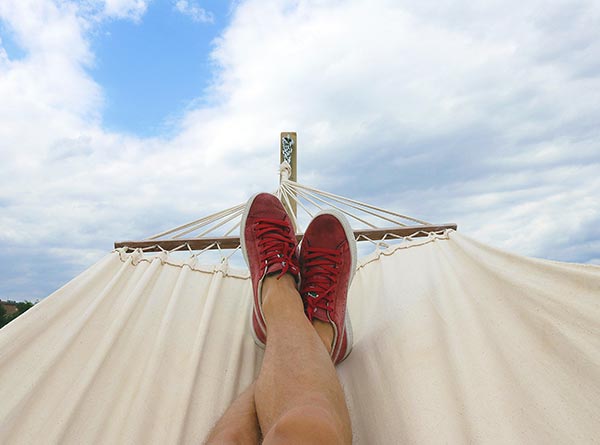 Do you have a vacation checklist for your Peoria home? It might take a little extra work to get your home ready for vacation, but you'll be able to relax more once you're at your destination. Consider this your checklist for peace-of-mind while you're getting away.
Make it look like someone is home
Vacation season is prime time for criminals to make a visit. Take a few precautions to make your home look lived-in while you're away.

Park at least one car in the driveway, so it looks like someone's at home
Hold all mail and packages or ask a neighbor to bring in your deliveries
Bring in your spare keys
Put your lights on a timer to mimic your family's typical schedule
Mow your lawn and trim hedges
Set up smart locks for helpful neighbors and pet sitters
Play it safe and don't mention your travel plans on social media
Clean your house before you vacation
Nobody wants to come home to a stinky situation. Keep your vacation vibe going by taking time to tidy up before you head out. That way you can come home and rest, instead of cleaning up a mess. Clean out the refrigerator and freezer. Take out the trash — check every room. Vacuum, dust and wipe down counters and sinks. And finally, make your bed, so you can sink right in when you get back.
Set electronics and appliances to energy-saving mode
If you're gone for 3 days or more, take a vacation from your electric bill by dialing back your energy usage.
Set thermostats up to 85 degrees in the summer and as low as 55 degrees in the winter. If you have pets staying at home while you're gone, choose a setting that will still keep them comfortable. If you use smart home automation, turn your thermostat off completely so it won't turn on every time your neighbor brings in the mail.
Unplug small electronics, especially chargers, which continually draw electricity and can increase your electric bill. Close blinds and curtains to keep your house cool in the summer and warm in the winter. Then your air conditioner and heater won't have to work too hard while you're on vacation. Put the water heater on vacation mode if it has that option so it operates more efficiently.
Hopefully these tips come in handy next time you're planning a getaway!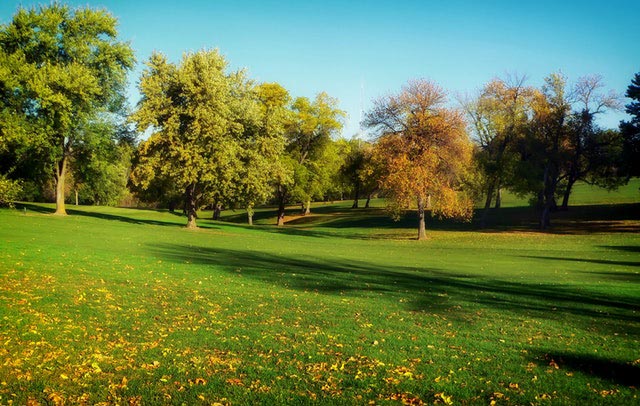 The end of summer is not the end of lawn maintenance. Every lawn is different, but here are some lawn maintenance tips to take advantage of the fall weather.
Repair bare spots
During the summer, there's usually a lot of lawn traffic. By the fall, pets, kids playing, and foot traffic have probably resulted in a few bare patches. Using a hand rake or other tool, loosen the top layer of soil to give the new seed a better chance to nestle in and begin to build strong roots. Give the newly seeded patch a deep and thorough watering – but stop if you see the water start to puddle. Water the patch daily to keep those seeds hydrated and growing.
Overseed your lawn
If your lawn looks thin in the fall, this is a good time to thicken it by overseeding before winter sets in.To overseed your lawn, start by setting your mower to one of its lowest settings so you can cut your grass to a height of 2 inches or less, and bag the clippings. Rake the lawn to remove dead grass and debris, while also loosening the upper layer of soil….then seed away!
Feed your lawn
Fall is peak time for your lawn to begin storing nutrients and growing lots of strong roots. From grass roots to blade tips, feeding in the fall will do a whole lot of good for your lawn, both now and in the spring. Here are 3 benefits of fertilizing your lawn in the fall:
Help rejuvenate and repair your lawn: All lawns get stressed by summer heat, drought, heavy foot traffic, or a combination of those. Applying lawn food can help replenish frazzled, worn-out grass so it recovers quicker and better. Plus, a fall feeding provides a noticeable greening that lasts longer than an unfed lawn.
Give roots a pre-winter nutrient boost: Lawns get hungry, especially as they slow down at the end of the growing season. Fall lawn food helps your lawn grow stronger, deeper roots before cold weather and frozen soil set in.
Make for a strong start to spring with a greener lawn: During the dormant season, it's natural for your lawn's growth and energy to come to a near standstill. A fall feeding gives grass a big dose of essential nutrients to store for when they're needed most: the spring growing season. Not only will that lead to a thicker, lusher lawn, but your grass will green up earlier by as many as 2 to 6 weeks!
Keep cutting your lawn
You still need to cut your lawn in the fall. However, make sure you keep it two and a half to three inches tall. A shorter lawn will reduce the energy available to the grass which is needed to obtain nutrients for healthy root systems. A shorter lawn could also reduce your lawn's ability to resist the cold and dryness of winter. Mowing also chops up the leaves and turns it to mulch – which enhances the soil.
Clean Up Your Leaves
Raking leaves is typical lawn maintenance in the fall. They can be used as mulch, compost or several other applications. One additional way to use the leaves is to chop them up with a leaf vacuum and store them outdoors in a black garbage bag. Rather than purchase new soil for containers, take the chopped-up leaves and mix them into the existing container soil.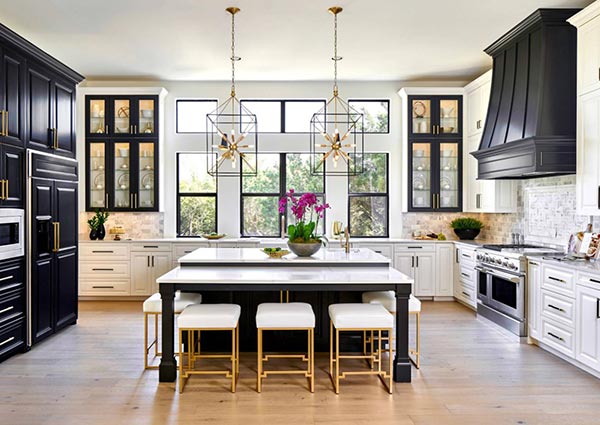 Regardless of your reasons for downsizing during your Peoria move, the process does not have to be stressful. By keeping a few pieces of advice in mind, downsizing can go smoothly, giving you a new, uncluttered home.
Start as soon as possible
Perhaps the single most important piece of advice for downsizing during a move is to start early. As soon as you know you will be moving into a smaller space, get to work. Although going through an entire home or apartment can seem daunting, if you plan ahead, you can take care of a room each week or even one room a month. By tackling the space bit by bit, it will seem more manageable.
Sort, sort, sort
The best way to downsize during your move is to be honest with yourself about what you truly need. Before you begin going through the items in your house, sit down and make a list of what you will definitely need. These should be the items you use on a regular basis and the essentials, such as your bed and cookware.
Sell or donate items
Depending on your personal preference, you should sell or donate the items you decide you no longer need, provided they are in good condition. If you find yourself struggling emotionally to get rid of that unnecessary TV, the extra money you get from selling it might help convince you.
Consider a storage unit
Storage units are not for everyone, but if you have some items that you simply cannot get rid of but will not have space for in your new place, go ahead and rent one. Just make sure that you do not use a storage unit as an excuse to keep items you should not. After all, that just moves the problem instead of resolving it. It also forces you to rent a larger unit, costing more every month. Instead, use your storage unit for items you cannot bear to part with or might legitimately need in the future.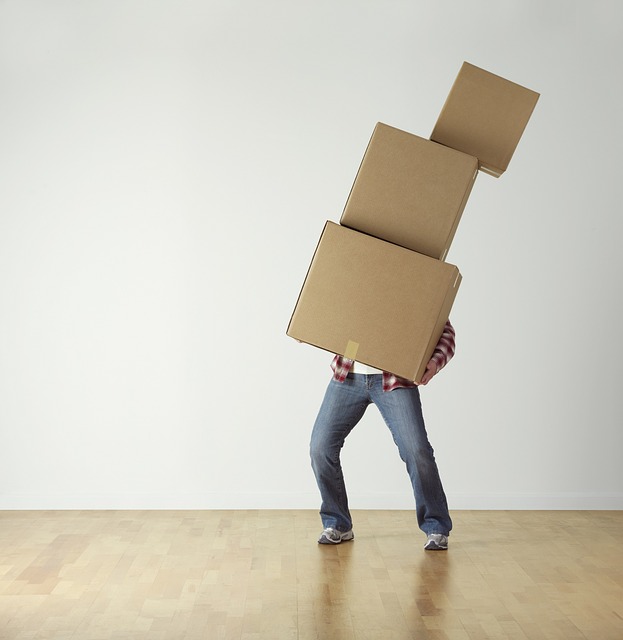 You've probably heard lots of advice on how to pack before moving. But what about advice on how to unpack after a move? Read on to learn more about how to tackle this task strategically. If you follow this advice, you should be on track to become fully settled in your new Peoria home in less than two weeks.
Distribute your boxes strategically
Move-in days are crazy. You'll probably feel rushed to try and empty your truck or van as fast as possible. It can be tempting to just throw all of your moving boxes in a pile close to the door and sort them out later. However, we'd strongly advise against this. Instead, we recommend taking the time to put your boxes into the rooms where they belong from the get-go.
This is where any labeling system you created while packing for the move will come in handy. Ideally, every box will be clearly marked with the room in which it belongs. (If not, it should be marked with some sort of explanation of its contents.) Save yourself the trouble of having to sort through everything twice and bring each box into the correct room directly from the car. This way, your unpacking can get off to an organized start.
Clean before anything else
In real estate parlance, properties need to be "broom clean" before a new buyer or tenant moves in. Essentially, this phrase means free from any visible dirt. However, as any person who's completed a move recently knows, there's rarely time in the midst of it all to make sure that your whole home has gotten a deep clean.
With that in mind, you're going to want to do some cleaning of your own before you start to unpack after a move. We suggest keeping a selection of cleaning essentials – things like paper towels, all-purpose cleaners, and a broom – accessible as you unload your car or truck. That way, it can be one of the first things that you unpack.
Unpack rooms by importance
When it's finally time to unpack, you'll want to do so in an orderly fashion. We recommend unpacking room-by-room, in order of importance. This means unpacking the whole room at one time, rather than just grabbing the essentials and leaving the rest for later. Yes, it's a bigger task upfront, but you're less likely to have boxes of non-essential items laying around long after you've settled in.
In terms of the order in which you unpack, you'll want to start with your bedrooms first. After the move, you'll likely be exhausted and want to head to bed fairly early. This way, your bed will be waiting for you. Next, you should tackle the kitchen, followed by your main living space.
After that, you can move on to lesser-used spaces like your dining room, guest bedroom, and formal living area. Last but not least, you can tackle any supplemental storage areas like a basement or garage.
Declutter once more
In unpacking, there's one golden rule to follow: Everything has its place. This means that for each item you take out of the box, you should have a rough idea of where you want to put it in your new home. And you should put it in its place immediately. Any items that you're unsure about should go back in the box.
After you've been in your home for a while – let's say two weeks, to be safe – it's time to take a long, hard look at any items that you still have left in boxes. Ask yourself: Do you really need these items? Do they truly have a place in your new home? Have you missed using them on a daily basis?
If the answer to the majority of these questions is no, think about either donating the items or throwing them away. Now is the time to declutter even further. There's no sense in having half-empty moving boxes laying around forever. Nor is there sense in storing items that you likely won't use again. Your best bet is to give them to someone who can use them.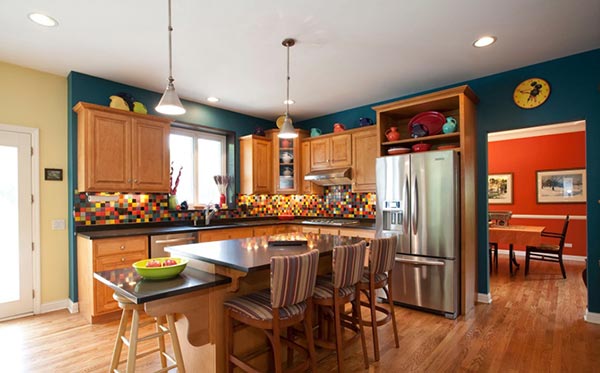 There's a lot more to choosing and combining colors than meets the eye. There are so many different shades and hues, it's no wonder that sometimes people misstep and choose the wrong one. That said, there are a few common color mistakes that designers see over and over again.
Not considering light
Believe it or not, lighting has a huge impact on the way a color looks and feels in a room. If you don't consider how a room's lighting works with a color that you picked, there's a good chance that you could end up living with a very different shade than you originally intended.
Fixing this mistake is all about prep work. Before you choose a paint color – or any type of color, for that matter – get some samples. Then, place the samples in various corners of the room and watch how the light affects them throughout the day.
You may notice that the color turned out to be lighter, darker, or have different undertones than you originally intended. At that point, though, it's much easier to switch out your sample color for another option than to redo the whole room from scratch.
Forgetting about balance
When dealing with multiple colors in a room, finding the proper balance between them is key. There's a place for bold colors to stand out and there's a place for neutral colors to provide an opportunity for the eye to rest. However, if you have too much of either one, you run the risk of the room becoming either too overstimulating or too boring. It's up to you to find the middle ground.
Luckily, there is an easy trick to help you. It's called the 10/30/60 rule. This rule dictates what percentage of the room should be taken up by each shade in your color scheme. The first 60% is your base color and usually a neutral shade. The next 30% is your secondary color, or a middle ground, and the final 10% is your accent color, which is the boldest shade.
Designing each room separately
At first, it may seem to make sense to decorate each room in your home as its own separate entity. After all, each room has its own individual uses, right? However, it's actually a much better idea to think of your home – or at least each level – as one cohesive unit and work your design with unity in mind.
If you've ever wondered why model homes and professionally-designed spaces always seem so put together, it's because of cohesion. Every room in those spaces shares a similar color palette. As a result, they all flow together seamlessly.
You can do the same thing in your own home. Start by doing your best to make sure that each room works in harmony with the ones adjacent to it. Then, when you're ready to take things to the next level, consider going for one cohesive look throughout the entire space.
Foregoing contrast
That said, you also don't want to go too far in the other direction and have the rooms in your home become too "matchy-matchy." When the colors you use are too similar to one another, the room runs the risk of becoming boring to the eye. In this case, everything starts to blend together and none of the design elements really stand out.
Luckily, if this is your color mistake, it's an easy fix. Simply add some contrast to give the room a little more visual interest. You can do this in multiple ways. Try adding an eye-catching accent color through the room's accessories or throw a bold print or pattern into the mix.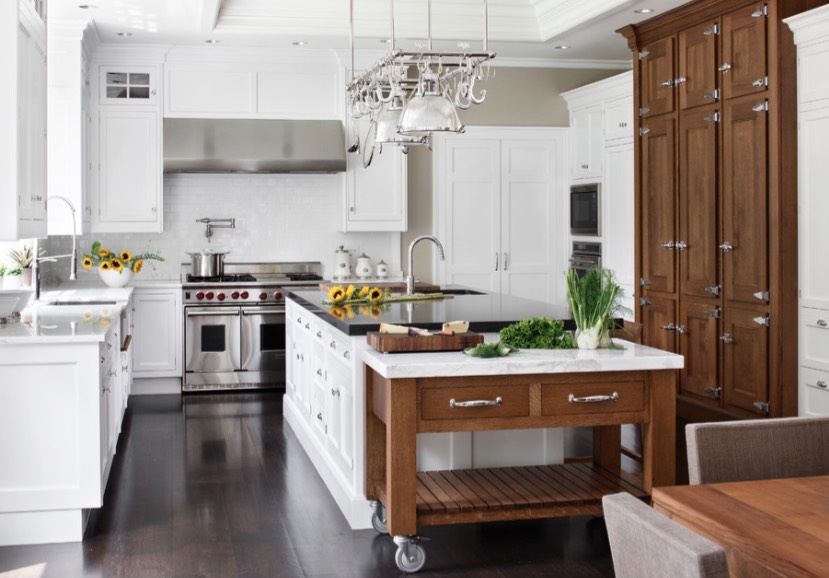 If you're thinking granite countertops, wood floors or a new outdoor deck top the list, you might be surprised to read that none of those three are mentioned. In fact, most of the top six home improvements driving profitable sales today are unexpected. And some don't cost a ton of money to add.
1. A wine refrigerator
Sellers who had a wine fridge in their home listing sold their home for 22 percent more than similar listings. The trend was especially big on the west coast, with Los Angeles at the top of the list.
The numbers: You can add a wine refrigerator to your home for as little as $150. Many styles can be freestanding and just need to be plugged in. For a seamless look, replace a kitchen cabinet with a wine fridge. Considering that you may get tens of thousands of dollars back on a small investment, this upgrade is one you shouldn't skip.
2. A steam shower
Having a glass-enclosed steam shower is like adding a wellness spa to your home. And buyers are on the hunt for one, especially in colder places like Chicago. Of all six upgrades on this list, steam showers are the item that offers the biggest sales price increase. Homes advertising steam showers sold for 29 percent more than listings that didn't mention one.
The numbers: The cost to install typically includes upgrading to a glass shower enclosure, updating the tile, adding a steam generating system or an exhaust fan and plumbing. According to Zillow, the cost can range from $2,500 to $10,000, depending on whether you're starting from scratch or updating an existing shower.
3. A pizza oven
Notice a trend here? Looks like buyers who are willing to spend more on a home are big on food and wellness. Pizza ovens are usually an outdoor feature and are much easier and less expensive to install outside, although you can add a pizza oven indoors, too.
The numbers: Home sellers who had a pizza oven received 26 percent more for their house than those who skipped the simple upgrade. You don't need a lot of space to add a pizza oven in your backyard or terrace, which makes it a great way to add value before selling your home. A pre-made pizza oven can be picked up at a home improvement store for as little as $350.
4. Professional kitchen appliances
The search term of "professional appliances" rates high with buyers. A pro kitchen is more than just stainless steel appliances; appliances are often commercial grade, designed for those who are passionate about cooking.
The numbers: Homes with professional appliances earned a 29 percent higher sale price over similar listings that didn't mention them. Some brands, like "Sub-Zero fridge," earned sellers an impressive 38 percent increase. Professional appliances start at about $1,200 for dishwashers and $5,000+ for top-of-the-line gas ranges and refrigerators.
5. Heated floors
Under-floor heating is a luxurious amenity to have. Imagine waking up on a chilly morning and stepping barefoot onto warm floors. Well, home buyers are looking for this upgrade in their next home, with buyers paying 24 percent more over the home's expected value for it.
The numbers: Installing heated floors requires construction. The system must go underneath the flooring, requiring owners to rip out the existing floor and replace it. According to Zillow, homeowners should expect "to pay between $5 and $10 per square foot" – not including the flooring – to install a system.
6. Solar panels
This eco-friendly upgrade is profitable, especially in the lowest-priced, entry-level home tier. Home listings advertising "solar panels" profited an average of 21 percent above the expected home's value. When looking specifically at the lowest priced, entry-level homes, sellers pocketed a whopping 40 percent more if solar panels were included.
The numbers: Solar panels are priced according to the "per watt of energy" they generate. Zillow reports that "the average US home with solar power has a 6 kW system, paying between $2.71 and $3.57 per watt." That adds up to somewhere between $10,000 and $15,000 for a solar panel system, after federal tax credits.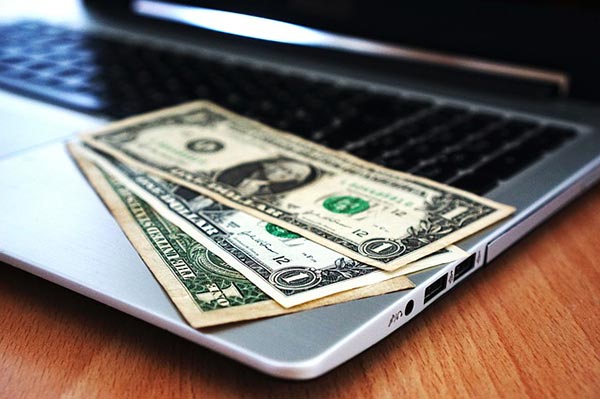 While you want to be comfortable in your Peoria home, it's possible to achieve this goal while also saving money. Making small adjustments that you will barely notice can result in significant savings. Keep reading to discover ways to save money on your electricity and water bills.
Stop using your toilet as a wastebasket. "Every time you flush a facial tissue or other small bits of trash, five to seven gallons of water is wasted," according to Doyle James, president of Mr. Rooter Plumbing.
James also recommends that you refrain from using your garbage disposal so frequently. "In-sink 'garburators' require lots of water to operate properly," he explains. "Start a compost pile as an alternate method of disposing food waste."
If you wash your dishes by hand, stop leaving the water running when you're rinsing them. "If you have a double-basin, fill one with soapy water and one with rinse water," James says. "If you have a single-basin sink, gather washed dishes in a dish rack and rinse them with a spray device or a pan full of hot water."
Your water heater accounts for 12% of your electric bill. If you have an older system, James says flushing sediments out of it will improve energy efficiency. However, if the water heater is 15-20 years old, he tells Freshome that replacing it will generate substantial savings. "Tankless 'on-demand' systems don't store water, offering savings up to 30 percent; however, the latest hybrid heat pump systems offer even greater savings – reducing water heating costs up to a whopping 60 percent," James explains.
Your ceiling fan can lower your energy costs during the summer. According to Richard Ciresi, owner of the Aire Serv of Louisville, KY, ceiling fans create a wind chill effect, allowing you to adjust thermostat settings by 4-7 degrees F (up to 30% savings!) and still remain comfortable. However, make sure that the fan is going in a counterclockwise motion during the summer, and turn it off when you leave the room, because fans cool people, not rooms.
Ciresi also recommends upgrading your lighting. "Lighting accounts for up to 12% of your energy budget, and those old school incandescents give off 90% of their energy as heat, taking a toll on your air conditioner." He recommends replacing your lightbulbs with CFLs (use 75% less energy and last 10x longer) or LEDs (use 80% less and last 25x longer).
Leave your thermostat alone. You don't need to cool an empty house. "This practice can actually increase your utility bills," Ciresi warns. "We recommend, particularly during hot weather, that you set the thermostat to a comfortable temperature and leave it be." Also, he says the constant temperature change isn't beneficial to your art, musical instruments, or furnishings.
Observe your humidity levels. If they're above 50%, Ciresi says you'll feel warmer than the air temperature. "In most cases lower humidity allows you to be comfortable at slightly higher temperatures, often as much as 78 degrees," he says. And if you can be comfortable at higher temps, you can save a lot in energy costs. "If your humidity is too high, check for a source like a leaking basement, roof, or plumbing fixture – you may need to a call an air conditioning professional to determine the cause and provide a solution."
Changing the time you use large appliances can also help you save money. "Operate dishwashers, washers, and dryers only when full, preferable at night or when temperatures are cooler," recommends Doug Rogers, president of Mr. Appliance. "Also, remember that refrigerators/freezers use less energy when full and make sure to pack them accordingly.
Small appliances – microwaves, toasters, TVs, DVDs – are energy vampires that consume small amounts of energy even when they're not in use. "Don't let them drain your budget," Rogers says. "Plug them into power strips so you can turn them off when you're not using them."
If your windows are properly sealed, this can account for 20% of your home's energy loss, according to Larry Patterson, franchisee of Glass Doctor in Dallas, TX. If your home was built before 2001, he says the most cost-efficient approach is to keep the window frame material and replace the existing clear glass insulated units with new low-emissivity (low-e) glass insulated units. "This can help save up to 35% on utility bills, while also leading to increased comfort near windows, reduced fading, and less noise."
For more energy saving tips…give me a call at (602) 540-9584!